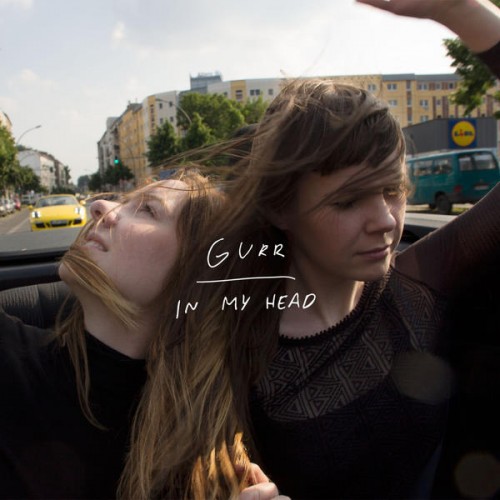 Gurr - In My Head
Label: Duchess Box | Listen
Gurr is the collaboration of the Berlin based Laura Lee and Andreya Casablanca. On their debut album 'In My Head' they've created a rare and beautiful beast: a sun soaked, Californian pop-punk record that speaks lyrically of life in Berlin, and it's a triumph. If you need some references then you should be thinking L7, Veruca Salt, Dinosaur Jr., Breeders etc. This album is musically a product of 90s indie pop but thematically a child of Berlin. This is all expressed perfectly on the album's cover, which has Gurr in an open top sports car, cruising through the streets of Berlin, drenched in sun.
'In My Head' starts strong with 'Breathless', a bouncy and positive ode to the joy of one night stands. It's a refreshing take on a subject that's usually unnecessarily maligned and shamed, though not so much in Berlin (it's a progressive, modern city where hedonism is officially recognised as an important part of German culture). Our two protagonists make out joyfully and drunkenly under a leather jacket as bottles crash to the floor beside them, "I'm wearing tights cos tonight I'll only stay for a night, I'll only stay for a night".
It's difficult to tell what Gurr think about the subject of the song '#1985'. It's about a guy who spends most of his time in a bar where he's managed to find popularity and even become a 'superstar' after thirty. He's always the last to go home and either goes alone or with the prettiest girl in the room. But one thing is for sure, Berlin is also a place where turning 30 doesn't necessarily mean it's time to go home and get serious lest you earn the ire of your peers, it could even be the making of your social life "I had to turn thirty before I could be so cool". The lyrics don't look on him too kindly though and I suppose it depends how you play the extended youth Berlin can offer you. Are you a slightly pathetic character wasting away in a bar picking up girls that are too young for you, or are you cool? The song is arguably the catchiest on the record.
The tone of the album throughout is celebratory, carefree and playful and it probably makes for a great live show, just listen to the 2 minute moshpit starter 'Rollerskates', a song that Gurr are on record as saying that it's the funnest to play live. In addition to this we get tracks about a guy falling in love with his computer ('Computer Love'), a one line rollicker about another favourite Berlin past time: not going to bed, dancing all night and writing the following day off ('Klartraum') and one track sung entirely in German ('Walnuss').
This is not just a straightforward, strictly garage album however, Gurr demonstrate a disciplined understanding of pop song structure and 'Free' is a great demonstration of that with it's 60s organ, mid song break into double time and perfect use of quiet/loud dynamics.
'Moby Dick' is an atypical highlight and perhaps the best song on the record, with gorgeous Smashing Pumpkins-esque guitar and bass orchestration that seems to glow in the dark underlying a perfect vocal melody. Gurr clearly recognise their strengths and have front loaded the album with their best tracks, this isn't a criticism however, as there is not a bad track on the record. I'm hoping that 'In My Head' is an excellent record that signals an even stronger second release.
Jesse Wittler